5 Common Injuries Sustained After a Car Accident
Car accidents are no laughing matter. The number of fatal car accidents in 2018 dipped slightly percentage wise from the previous two years, but the 40,000 fatalities nationwide were still 14% higher than they were in 2014. Fortunately, most car crashes avoid fatalities with the injury-to-death ratio averaging 114:1. Many accidents remain unreported, however, so the injury numbers are likely far greater. Nonetheless, the amount of reported nonfatal auto accident victim injuries totaled over 4.5 million in 2018 alone. But what are some of the most common injuries sustained after a car accident?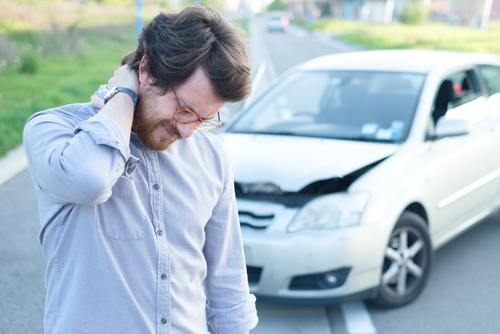 Whiplash or Neck and Back Injuries
Neck and back injuries are common after a car accident due to the forced movement in the upper body region. But whiplash is especially common. This specific injury occurs when a blunt force causes the neck to whip back and forth. A rear-end accident is the most common cause of whiplash, but it can occur during or after any type of trauma. Similar and often confused with a strain or sprain, whiplash can lead to chronic or intense pain and require extensive treatment.
Head Injuries and Concussions
Head injuries are extremely common in car accidents as the head is often the first part of the body to hit an object during the force of the collision. When the force is strong enough, a traumatic brain injury (TBI) can occur and a concussion is the most common type of TBI. A concussion occurs when the head is hit hard enough to shake the brain in the skull or when the upper body is struck so hard that the brain rattles. It often causes temporary bruising that can lead to immediate, delayed, and even extensive body or health reactions. Many concussions are self-diagnosed, but any type of head injury needs to be examined by a medical professional as soon as possible.
Bone Breaks and Fractures
Many post-accident trips to the emergency room are due to broken bones. The human body is strong, but the blunt force of an accident or car compression can cause any bone to break or fracture.
The most common breaks after a car accident occur in the extremities such as the arms, hands, legs, and feet. Even if the post-accident adrenaline rush allows you to walk or move the area freely, signs such as swelling, redness, deformity, bruising, and sudden pain can indicate a potential break or fracture.
Muscular and Tissue Injuries
Whether from whiplash or simple bumps and bruises, muscular and tissue injuries are common during and after a car accident. These injuries can occur anywhere on the body and in many cases, they can be just as painful as a broken bone. Symptoms of these injuries including redness, swelling, bruises, abrasions, and intense pain can become considerably worse with activity and lack of proper treatment.
Extensive Emotional Trauma
Physical injuries are instantly felt or noticed, but emotional pain can creep out of nowhere or become a chronic or ongoing issue. The sudden absorption and release or withdrawal of adrenaline for the auto accident victim can lead to anxiety and depression as well as night terrors over the experience. Whether head trauma or emotional distress in involved, the reminders may lead to PTSD which can require continuous treatment which may require the assistance of a competent Michigan auto accident lawyer. Give us a call if you're in a tough spot to discuss how we can help you get back on the road.